Due to current circumstances, we will be launching our next X-Particles Update as Beta Access first. We aim to provide a regular stream of new features, accessible to everyone with an X-Particles license in its Maintenance Period and compatible with Cinema 4D S22.
With the outbreak of COVID-19, our whole team is working remotely, and so are many of our customers. Beta Access enables us to release new features earlier than we had planned, and not all at the same time. Our users can explore these exciting new features as they are released and provide essential customer feedback to INSYDIUM.
You can find out more and watch our sneak peek videos on our Beta Access page, which will be updated as and when the features become available.
You can choose to try these features with our Beta Access Update. As beta software, it should be mostly bug-free, but remember, it's only had limited testing. You don't have to use it. It's up to you.
You will be able to use our INSYDIUM Online or our Discord Channel Beta Forums to discuss the Beta Update and post any issues. These forums will need to be used to discuss all issues; Technical Support and Customer Services will not be able to answer any Beta Update questions.
You will be able to download the latest Beta Access from your Customer Account when it becomes available. Or you can use the Early Access to update the X-Particles Beta – see opposite.

Here's a summary of how the Beta Access works:
You can choose whether to opt-in
Beta Access is for online use only; there is no offline period for Beta Updates.
You will be able to feedback to the team using our Discord channel or INSYDIUM Online, not Technical Support or Customer Services.
You will be able to raise bug reports via the X-Particles Bug Reporter.
Already used Early Access?
Here's how to get the latest updates:
1. Go Edit menu > Preferences (hotkey Ctrl + E).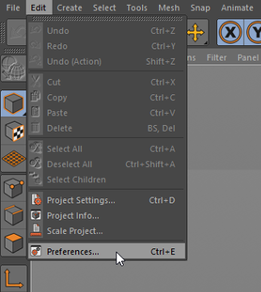 2. Select X-Particles on the left.
3. Tick the box 'Show Early Access Updates'.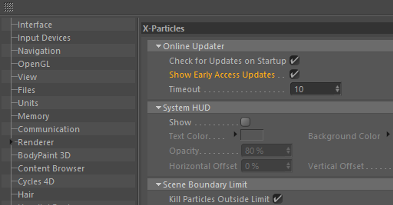 4. X-Particles menu – Help and Support menu. Select 'Check for X-Particles Online Updater'.
5. Click Check for updates now.