In this colorful and dramatic advert for Akamai's edge platform, we see athletes shift and adapt to any obstacle thrown in their way, layered with data visualizations and beautiful visual effects. We just had to speak to the studio responsible!
Thanks for speaking with us today! Before we dive into your recent project, please tell us about Scholar and what you do.
Scholar opened its doors in 2010 as a studio dedicated to showcasing that "how we get there" is just as important as the finished product. Based on their past experiences, founders William Campbell and Will Johnson created a destination for creative content to focus on, alongside emerging technologies. Driven by curiosity and an eagerness to engage viewers on an emotional level, Scholar's Los Angeles and New York studios blend artistry with techniques. Our goal is to forge braver, smarter content in a world in need of a voice and continue to push limits alongside our collaborative friends and brands such as Bleacher Report to Nike, Acura, Apple, Google, Target, and beyond.
Another question before we delve in, can you tell us how long Scholar has been using X-Particles in their pipeline, and what are your go-to features in X-Particles?
X-Particles has been a part of our pipeline since 2017. However, over the past couple of years, we've really ramped up our usage of X-Particles. This, and the integration of Cinema 4D and X-Particles into our production workflow, alongside our traditional Maya pipeline. As our design team expands their toolsets, it has been imperative for us to complement that with tools like X-Particles to seamlessly transition from concept art to post-production. For us, this tool has been vital in erasing any gap between 2D and 3D animation teams and allows us to make stylistic choices when approaching a job. In addition, things like the standard emitter, Turbulence, Trails, and Dynamics are really user-friendly and have allowed our artists to make the leap from 2D particle systems with ease. One of our favorite features in X-Particles is the ability to simulate realistic dynamics through Particle Advection. We love seeing the particles moving, driven by dynamic forces like xpExplosia, which adds another layer of hyperrealism to the particle movement that can't be generated by other particle systems.
The project we wanted to talk about is your work on 'The Akamai Experience.' Can you tell us how the brief was presented to you?
We were approached by the team at Doremus with an exciting challenge and set of parameters. They were looking to depict the many tools and strengths of Akamai's platform in a unique and stylistic container full of visual metaphors and energy. From the early references, it was evident that there would be lots of room to push this into a visually exciting and dynamic space. Each sport was chosen to represent a different area of Akamai's capabilities, the weather to represent the volatility of the digital space, and the "code dust", (as we called it), to peel back the curtain into the Akamai coding-verse that was working behind these athletes. From there, it was our task to decipher how we would tell these stories, visualize how the coding would look, and move and integrate it into the live-action world. Finally, we dove headfirst into pre-production, building upon both of these facets of the spots simultaneously.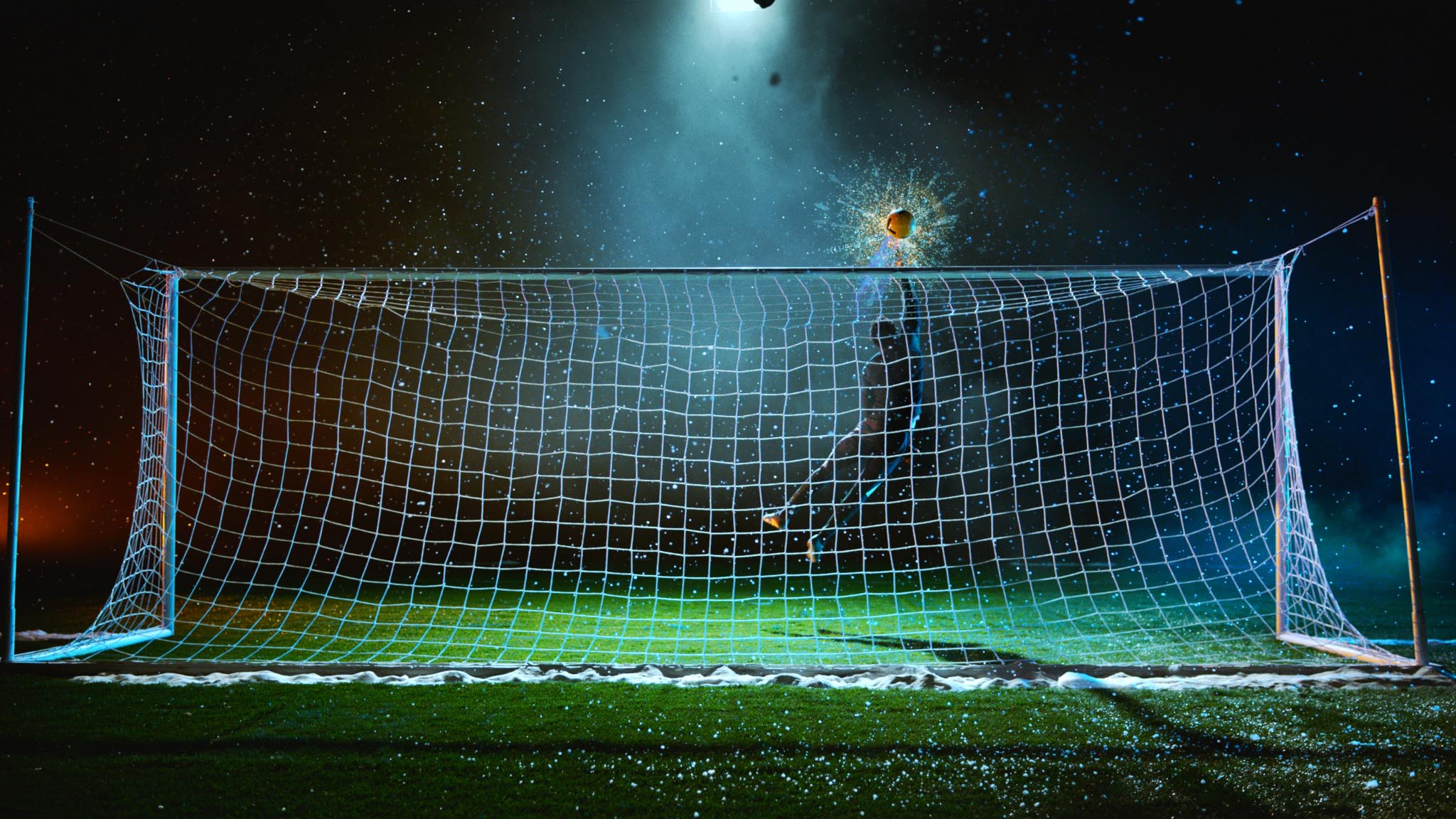 Once you had your plan in place, what were the following steps to get the project moving?
With foundational roots in design and animation, it's in our nature to apply that type of thinking wherever possible to our live-action approach. Our next steps included parallel pathing the storyboards/live-action prep with our design frames and animation tests to establish the look and movement of the coding. This helped guide us on the type of camera lensing we should use, the palette for the colored lighting, and the different frame rates to capture each athletic action. A unique challenge was simulating the particles at a slower frame rate and testing the feel of the animation as it was applied to a speed-ramped style of editing. We leaned on the xpSpeed Modifier and retimed caches to help in this process. We had video call discussions with our client to find the right balance for this coding, but ultimately, we knew that we would return to this RnD phase once the footage was shot and we could really judge how the FX were working alongside motion plates.
The use of athletes to depict the competition between brands in this space is a nice touch. The athletes are shown as powerful, aided by the visual effects throughout. Can you tell us how the rain and lighting effects in the tennis player's scene were realized?
Establishing the use of rain and weather really stemmed from the concept that these athletes are the most elite in their sport and represent the power of Akamai. How can we depict the most challenging obstacle a tennis player could face? This match being played through lightning and a rainstorm is just something you never see and it created an incredible challenge for our athletes (in the film and on the shoot day). We captured almost all of the weather FX practically, in-camera, to truly embed that obstacle into the performance of our athletes. The lightning effects were captured using strobes and embellished in post, with matte paintings illuminating the sky. These in-camera details gave us a fantastic foundation to build off of in animation.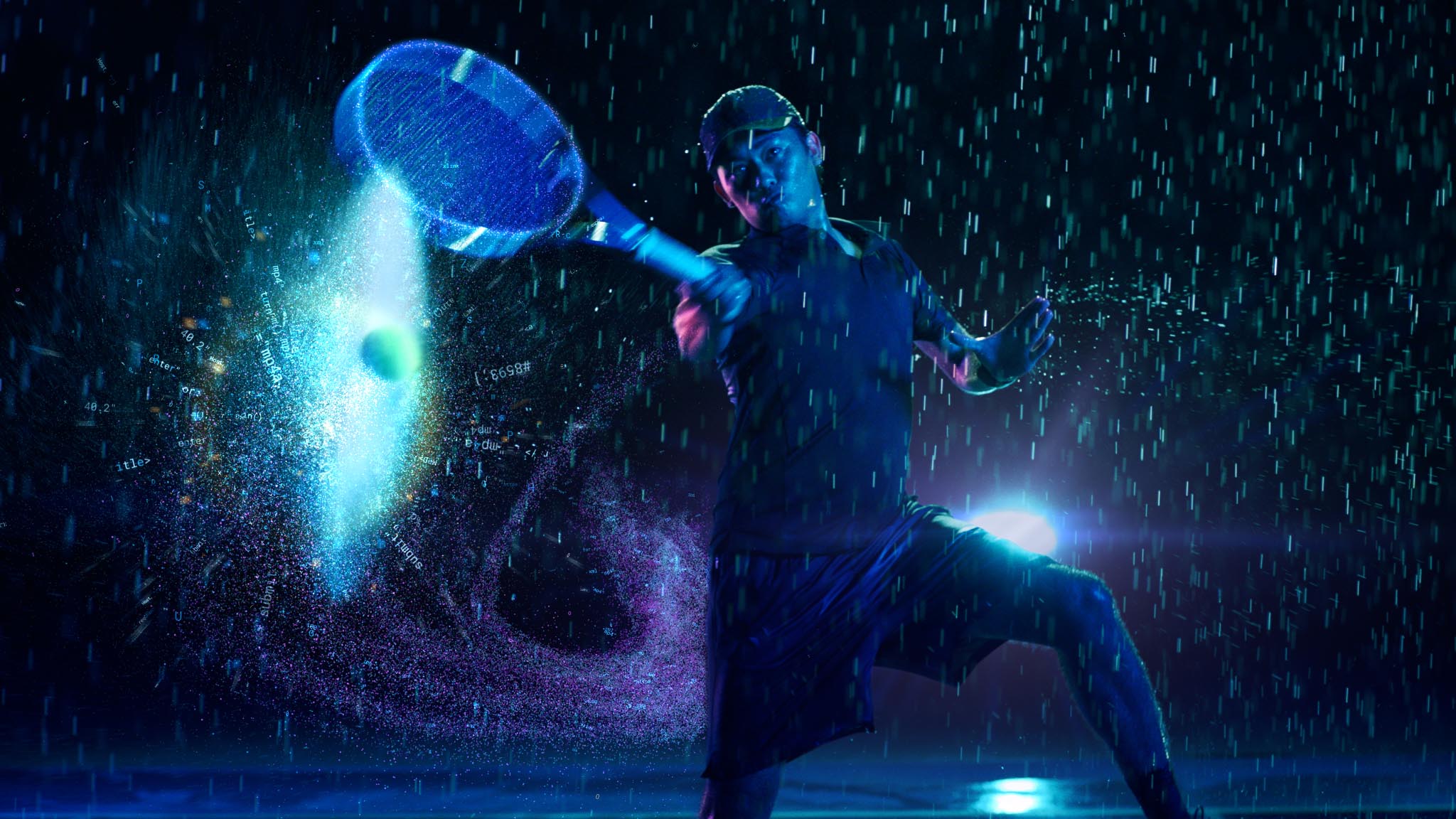 Another significant aspect of this piece is the code mixed within the particle simulations. What does this code represent and how was it made to work seamlessly with the dust particle simulations?
The code elements were a crucial piece to representing Akamai's tools. Finding the right balance of simplified particles used to accentuate impact or motion, coupled with the more literal code pieces, was dialed in for each shot. The coding elements are actual Akamai code, which we broke down into chunks that allowed us to still create dynamic motion without feeling restrained to long bars of code. We often used a mix of approaches, including integrating various sizes into particle simulations and hand-animating certain hero pieces.
To have a unified look of the code element and particle system throughout the spot, we developed a system that categorized different types of particles and codes and used them accordingly. First, we 3D tracked the movement of action items in each shot, which included the balls from each sport and the tools the athletes used, such as the bow and arrow or the goalie's gloves. Then these tracked objects were turned into emitters and generated dynamic particles, composed of short and long chunks of Akamai's code lines and more simplified particles, dynamically moving in the 3D space. We then created another set of particle systems that made these beautiful fireworks of particles to accentuate the impact of those action shots, composed of more dense and colorful particles and longer chunks of code lines.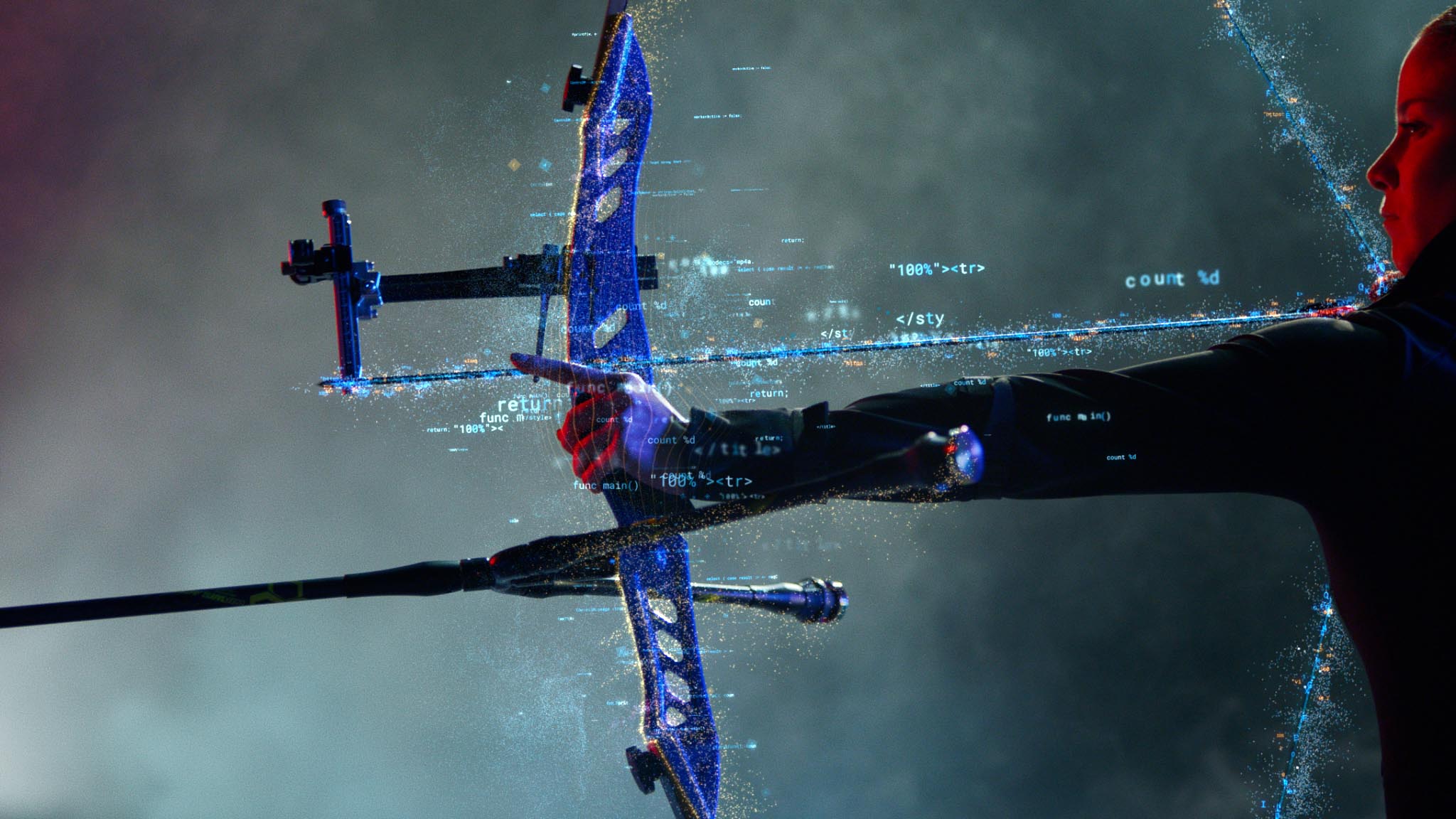 Throughout the Archery scenes, there are some beautiful, thick plumes of smoke covering the floor. Can you tell us how these effects were created?
Practical fog rolling through frame amongst colorful lighting at 900fps was something we often got lost in, watching on repeat during the process. It's stunning to watch and we were thrilled to be able to capture a lot of it practically. All of the thick fog you see interacting with the archer was shot practically at high speed to establish the layers of this world in-camera. It also provided an excellent reference when layering some of our CG target shots with fog that needed to match.
For this, we used X-Particles ExplosiaFX to create a rolling atmosphere, that would be lit and rendered through Redshift using VDBs. The efficiency of the ExplosiaFX tool, coupled with the GPU rendering of Redshift, allowed us to quickly establish a look early in the edit and provide rendered previz-level animation to our editors. This was huge in avoiding greyscale playblasts, as much as possible, that would pull our clients out of the story experience.
When presented with a new project from a client, how do you decide on which piece of software to use? Moreover, for what reasons would you choose to use X-Particles?
At Scholar, we take on a wide variety of work from 2D and CG animation to live-action and design with an abundance of different styles in each. It's crucial for us to constantly expand our toolset so that we're ready to take on any technical challenge in an efficient way. X-Particles has more frequently become our go-to for jobs that require particle simulations with depth and the strengths of 3D, while also being able to adapt to our design aesthetic in a streamlined way. Each day working in X-Particles presents an exciting new result and we're really enthusiastic about its role in our future projects.
Thanks for taking the time to chat with us today. It's been an utter pleasure! One last question: can you give us one piece of advice for an aspiring Digital Artist?
It's been a pleasure to talk more about our technical approach on this project! Thanks so much for your interest and for helping us bring it to life with X-Particles! Advice: Always take time to constantly learn and expand your toolset. But remember that it's not the tool that creates the art; it's how you apply it. Think first about your concept and the question you're trying to solve, and the technical answer will rise to the surface.
Client Akamai
Agency Doremus
Chief Creative Officer Paul Hirsch
Creative Director, Copy Brian Pike
Creative Director, Art Mark Butorac
Executive Producer Amy Capen
Production Company Scholar
Director Chris Finn
Managing Director Jo Arghiris
Executive Producer Kirsten Noll
Head of Production Tyler Locke
Line Producer Rich Kaylor
DP Andres Bermúdez
Production Designer Nicolás Duque
Foreign Production Company Vagabond Films
Design & Animation Scholar
Creative Director Chris Finn
Art Director Vin Kim
Managing Director Jo Arghiris
Executive Producer Kirsten Noll
Head of Production Tyler Locke
Sr Producer Nicole Smarsh
Designers Sam Cividanis, Alex Maltsev and Daniel Onassis
2D Animators Kenny Kerut, Joakim Ekstroem, Phil Hoeschen, Jeffrey JIP Jeong and Ryan Sommerville
3D Generalists Ryan Kaplan, Kevin Kolodinsky and Kevin Lim
Compositors Ryan Kaplan, Josh Bolin, Michael Loney and Lisa Ryan
Flame Artist Matt Lavoy and Jeff Langlosi
Storyboards Fred Fassberger
Editor Jason Webb and Healy Snow
Assistant Editor Micky Tsang
Mix & Sound Design Echoic and Cypher