Last year, Sekani Soloman created a full CG short film. Hidden is an emotive piece of film making based on the thoughts and feelings of which we hide from one another. Each of the figures in the film represent an emotion; fear - chains, love and affection - crystals, greed and ambition - gold, and joy and happiness - flowers.
Can you tell us a bit about yourself, Sekani and how you got into motion graphics and VFX?
I'm a Senior Cinema 4D Generalist/Designer currently based in New York City that's originally from Trinidad and Tobago. I kind of stumbled into Motion Design by accident. Like most kids, I loved cartoons growing up. This morphed into a passion for drawing which eventually led me to open photoshop around the age of 15. I never thought of art as a serious career until I graduated high school as my studies always focused on Sciences. At this point, around the age of 18, I rediscovered a love for photoshop. I quickly fell deep into the rabbit hole of photo manipulation. This triggered a snowball effect of learning which quickly led me to After Effects and Cinema 4D.
After some deliberation as to what I wanted to study at school (it was between Software Engineering and Graphic Design) I enrolled in a BFA program at the Savannah College of Art of Design and moved to the United States in 2010. I landed a job at Imaginary Forces before graduating where I honed my skills. Notably, I had the chance to work on the Main Title for Manhattan which won the 2015 Emmy Award for Outstanding Main Title Design. Since going freelance in 2016, I've had the chance to work with companies such as Method, Psyop, MPC, Buck, Apple and most recently Cash App.
Does using personal projects to express yourself in film making have a positive impact, if any, to your 3D Design and VFX career?
Indeed, it does. When doing a 3D based piece, there is a process you must go through to materialise the image in your mind, in live action it's instant. It's somewhat of a similar but different process, instead of creating, you're capturing. Being able to be on location, physically see what I want to capture and make creative decisions as to how I want to do that capture helps to inform how I create similar images in the computer. It also serves as a way of not being in front of a screen all day.
Can you briefly describe your inspiration for Hidden?
Hidden was born from some style frames I created for another project which sadly didn't get chosen. The timing also coincided with me wanting to create a personal project that was more than just pretty visuals. Regarding the content, I wanted to do something about self-appreciation and emotion. In the age of social media, I think we begin to take some of our relationships for granted, and we don't necessarily value those close to us as we should. Our values get morphed as we begin to compare ourselves to what we see on these platforms, and the continuous bombardment of images starts to influence our wants and needs. I wanted to do a piece that reminded people to take a step back and really appreciate the beautiful things that make us who we are and just serve as a reminder that we should take care of one another.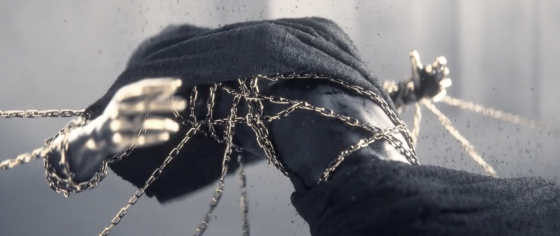 Hidden has been played over 100,000 times on Vimeo; it's been well received. You were asked to present Hidden at Siggraph 2018. Can you tell us about presenting at Siggraph and how that came about?
I've had a relationship with Maxon for a couple of years now and have presented at Siggraph a few times before. Being able to present a project that you conceptualised and executed always has a special feeling, it's like sharing your baby to the world.
Why did you decide to use X-Particles in this particular project?
X-Particles is simply the best particle system in Cinema 4D right now. When I think of doing particles in Cinema 4D, X-Particles is instantly my first option.
How did you first hear about INSYDIUM's X-Particles?
I first came across X-Particles for a Dolby job I worked on at Imaginary Forces. Having only had the option of using Cinema 4D's thinking particle system beforehand, X-Particles came with an explosion of new possibilities. If that first Dolby job was just me dipping my toes, a second Dolby project came along which was pretty much made entirely using X-Particles. I had to learn a lot quickly, and the intuitiveness and flexibility of X-Particles allowed me to get a quick handle of the plugin and finish the project faster and more aesthetically pleasing than I would of using other particle generator solutions.
How did X-Particles fit within your workflow?
One of the things I like about X-Particles is that it works well as a scattering object. Because X-Particles works great with Redshift to instance geometry, I used X-Particles to scatter geometry around my scenes. Whether it be blades of grass to get a nice field of grass or mounds of gold coins, X-Particles made this process painless. I also used X-Particles for various other particle effects and even a cloth simulation at the end. The ability for X-Particles to be versatile really helped in the production process. Another big plus is its integration with the Mograph Module in Cinema 4D. This allowed me to layer more animation using mograph to get greater control over my particle effects.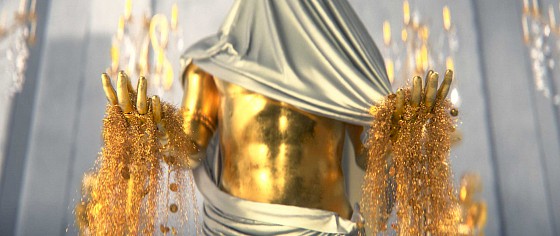 How user-friendly did you find X-Particles and why?
My first real use of X-Particles was during the middle of a job, and I had to get a grasp of the software quickly. Having used particle systems before, X-Particles worked in a similar way which made it easier to jump into. The software was quite user-friendly for someone that was foreign to it. As I began digging deeper into the software, I found the features and functionality to be quite intuitive but with a deep level of options for people wanting to get more complex.
Have you ever come across a design problem or issue, where X-Particles has given you a solution?
Another cool thing about X-Particles is the ability to experiment and come up with really cool results. You can plug mograph into it, apply different shaders and come up with all types of looks. During the design process, it really is a resourceful tool.
For what reasons would you recommend X-Particles to others?
The reason I'd recommend X-Particles is because it's simply the best particle system for Cinema 4D. With all the various dynamic systems including pyro, cloth and liquids, X-Particles opens up a whole new range of possibilities of things to create in Cinema 4D. It's particle system intuitive and powerful, allowing you to create complex-looking animation.
If you could travel back in time and give yourself one piece of advice about working in this industry – what would it be?
The one thing I would remind myself is that it's all a process. Sometimes we just want to suddenly jump from point A to point Z, but it takes much time and effort. Even being a Cinema 4D user for around nine years, there are still new things I'm learning. It's just important to stay consistent and continuously do work that pushes you.