Geist is a multimedia installation, an art piece, created alongside artist Jan Glisman and sound artist Jiyan Park. The project is based on documentary data collected during the four years of demolition of the Deutsche Welle building.
Hi Dmitry, thanks for taking time out of your day to chat with us. Before we delve in, please give us some background about yourself.
My creative roots stem from my family, as nearly all of them are involved in the creative industry in some form. As a child, I was exposed to various creative fields and encouraged to pursue my interests. I have played violin for many years and enjoyed a classical music education. I spent a lot of time with music - I played in orchestras, ensembles and solo, which encouraged my development greatly.
At 16, I became fascinated with video as an art form and started experimenting with creating short film-like projects. I quickly became interested in sound visualization and music videos, leading me to spend several years as a VJ in clubs and concerts, mixing live visuals with video footage and 2D and 3D animation. Over time, I became increasingly interested in 3D animation and new technologies. My experience and connections in the industry allowed me to transition directly into working as an artist after finishing my regular school education.
For the past 18 years, I have worked as an artist, designer and art director on various projects, including commercial projects for well-known brands such as Apple, BMW, Samsung, Warner Music and so on. Alongside my commercial work, I continue to develop personal projects ranging from experimental short films to immersive experiences and new media art installations.
We'd like to discuss your recent work on the 'Geist' multimedia installation. What is this installation and where was it displayed?
The multimedia installation collaborates with artist Jan Glisman and sound artist Jiyun Park. The project is an art piece, based on documentary data collected by Jan Glisman during the four years of demolition of the Deutsche Welle building. The building has been completely empty since 2003 and was finally dismantled in 2022 after four years of a complex process to prevent asbestos particles from entering the environment and becoming dangerous for humans. Jan documented the process with programmed drone flights, stop motion systems and audio recordings, thus creating the project's basis.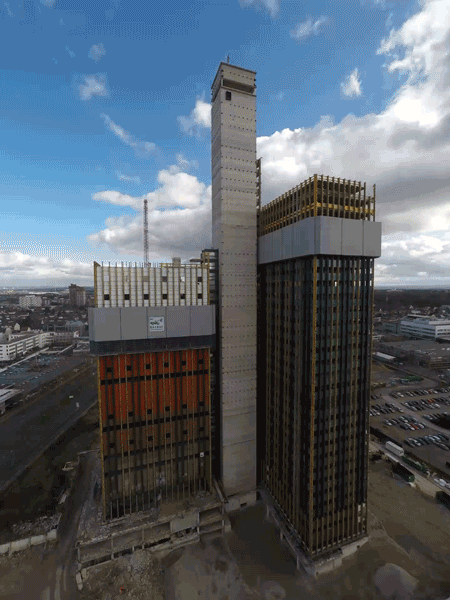 'Geist' is an immersive multimedia experience that deals with the ambivalent process of urban development and resource consumption. Asbestos, which is a natural material consisting of microscopic particles, was in the past dubbed as a "super material" and is now the reason why a vast building, which is still fully functional, is now being deconstructed. We have tried to reproduce the 'Geist' (Spirit) of this process, the building that no longer exists, in an abstract artistic creation.
One part of the installation consists of a five-meter-high floating light sculpture, which one can circle around and experience 3 different abstract video interpretations of the deconstruction. The second part is the multi-channel sound distributed throughout the space, generating a multi-layered auditory experience. The work included hanging colored facade panels taken from the deconstructed building, that are brought to life through vibrations by sound transducers, thus acting as speakers. 'Geist' premiered on the 1st and 2nd of July, 2022, at the Deutschlandfunk Kammermusiksaal, as part of Jan Glismans exhibition "Rückbau Deutsche Welle".
You mentioned this was created with several artists collaborating. Which aspects of the project were your responsibility?
We worked on the concept as a team over several months. During this time, we discussed how to process the captured material and what the final product would look like in a space setting. My primary focus was on the visual development of the projections, which involved a lot of work on visualizing the deconstruction process using computer technology and exploring how far I could push the abstract elements. The goal was to create a visual and auditory experience of dissolving into nothingness, representing humankind's never-ending pursuit of progress and their mistakes and failures to learn from them. I utilized photogrammetry and 3D technology to bring these concepts to life, which gave me many possibilities to experiment with.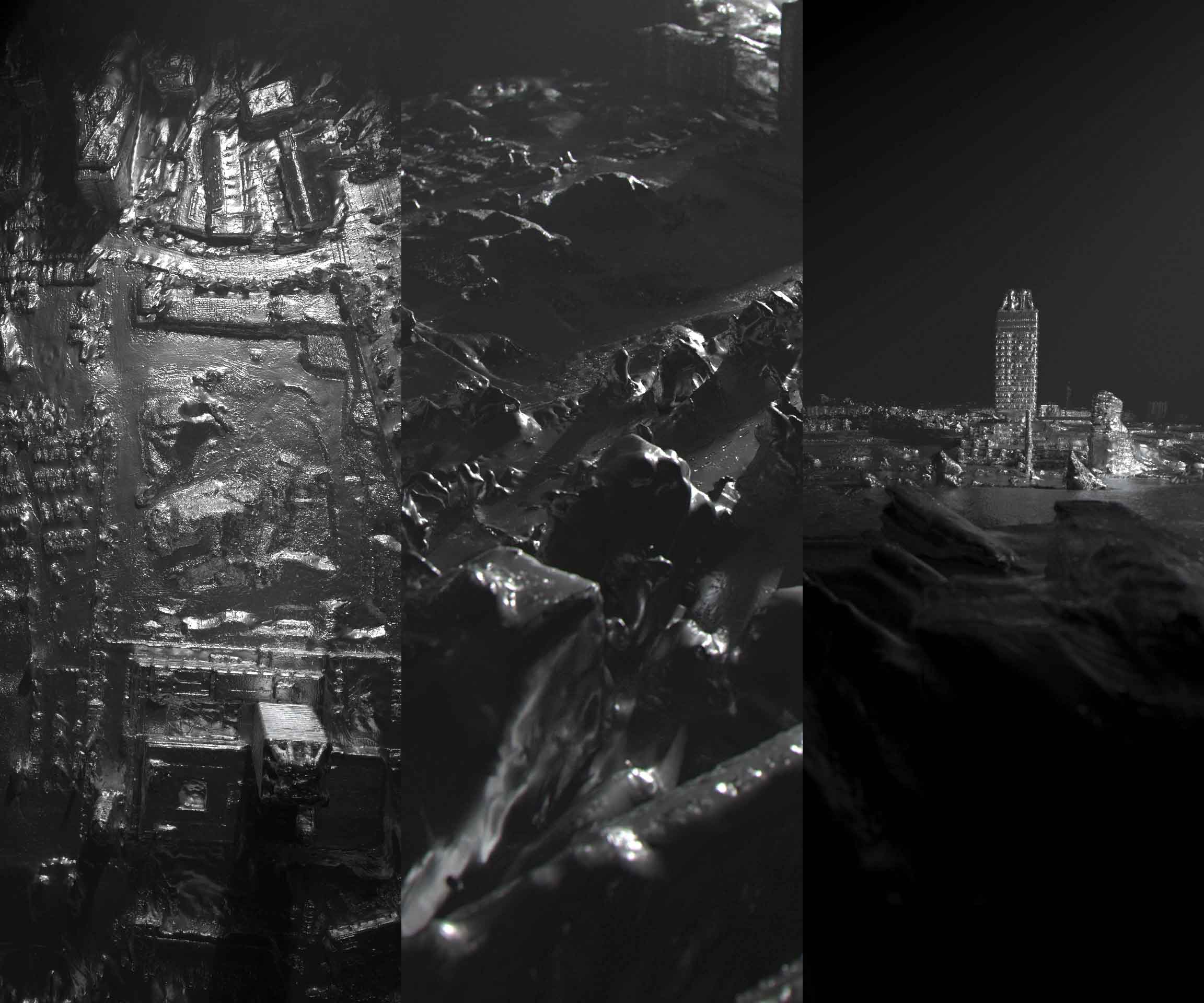 Can you explain how you used photogrammetry to help produce abstract virtual worlds for the multimedia installation?
The programmed drone flights allowed me to capture various stages of the deconstruction over time through photogrammetry. We had images of the building when it was still intact, thoroughly deconstructed, and at every step. I scanned many of these drone flights and transformed them into point clouds and 3D mesh objects, allowing me to conduct visual experiments using this data.
My goal was to deform and manipulate the 3D scans using particle simulations, not just to showcase dissolving but to also use accurate data, such as the color and shape of the scans, as source material for the animations. Maintaining the authenticity and reality of the construction site was vital to me and photogrammetry allowed me to make this abstract data visually accessible and engaging.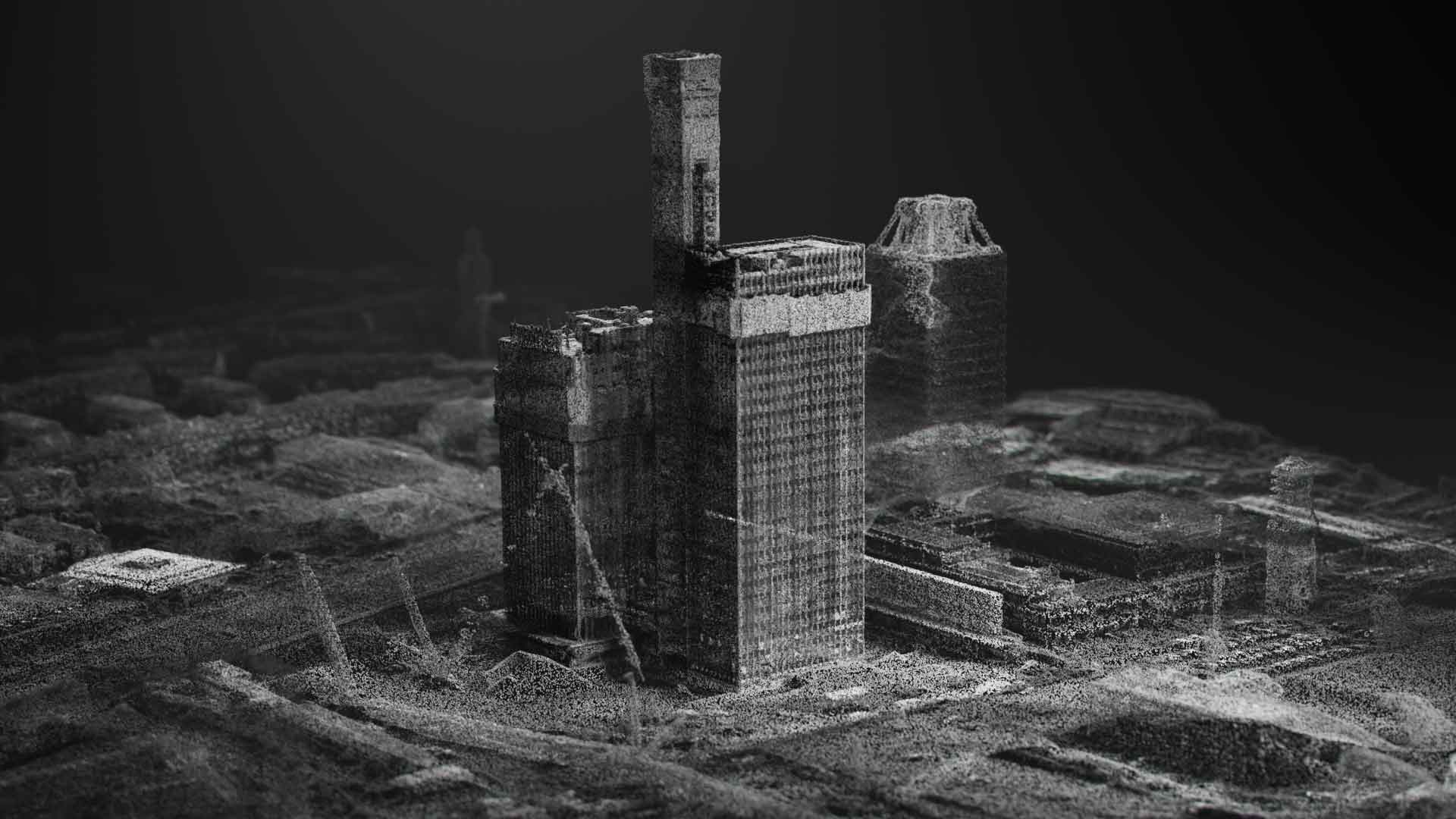 From these initial experiments, I created three different virtual worlds that allow the viewer to observe the deconstruction process from different perspectives. Each work channel presents a unique particle simulation and visual interpretation of the entire process. The use of photogrammetry, 3D technology and particle simulations provided a unique way to showcase the dissolving process in a visually stunning and thought-provoking manner.
Can you explain how you used X-Particles within your workflow for this project?
X-Particles played a crucial role in this project. Over 70% of the animations in the project were created using X-Particles. With its tools and capabilities, I experimented and fine-tuned my workflow to achieve the desired result. The foundation of my animations started with the point clouds or meshes used to create the particles. Then, I leveraged the various features of X-Particles to control the movement, color and appearance of the particles using different modifiers and dynamics.
Over 70% of the animations in the project were created using X-Particles.
The flexibility and ease of use of X-Particles allowed me to quickly try different approaches and fine-tune my animations to meet my creative vision. I aimed to produce three worlds, each with a distinct look and feel. The workflow allowed me to accomplish this with a single system by using different combinations of features and techniques. This saved me time and allowed me to focus on creating visual experiences that could be enjoyed by the audience. Overall, X-Particles enabled me to achieve my creative vision and complete the project.
The flexibility and ease of use of X-Particles allowed me to quickly try different approaches and fine-tune my animations.
What is your favorite feature of X-Particles to experiment with?
The Nexus update is what I enjoy most about X-Particles at the moment. I hope it will continue to improve so that particle simulations in C4D can be worked out even faster and be more complex. With a faster simulation, you can be much more creative in a shorter time frame, so this is the most significant development, in my opinion.
Thanks again for chatting with us today, Dmitry. Before you go, could you tell us what your favorite shot was to work on in this project? And how was it created?
This is a tricky question due to the overlapping nature of the shots in the production. The installation lasts approximately seventeen minutes, playing in a continuous loop and each screen showcases a different, but slightly altered, scene. Despite this, all three projections combine to form a complete, united picture.
The abstract representation of the building, as well as the microscopic abstractions and particle simulations, both have their own unique appeal and contribute to the overall charm of the production. Therefore, designing the three channels and their interaction was a critical and fundamental aspect of the project. Creating these channels took months of hard work and, upon completion, the entire project came to life, appearing to make more and more sense in terms of design and content, as the components were brought together.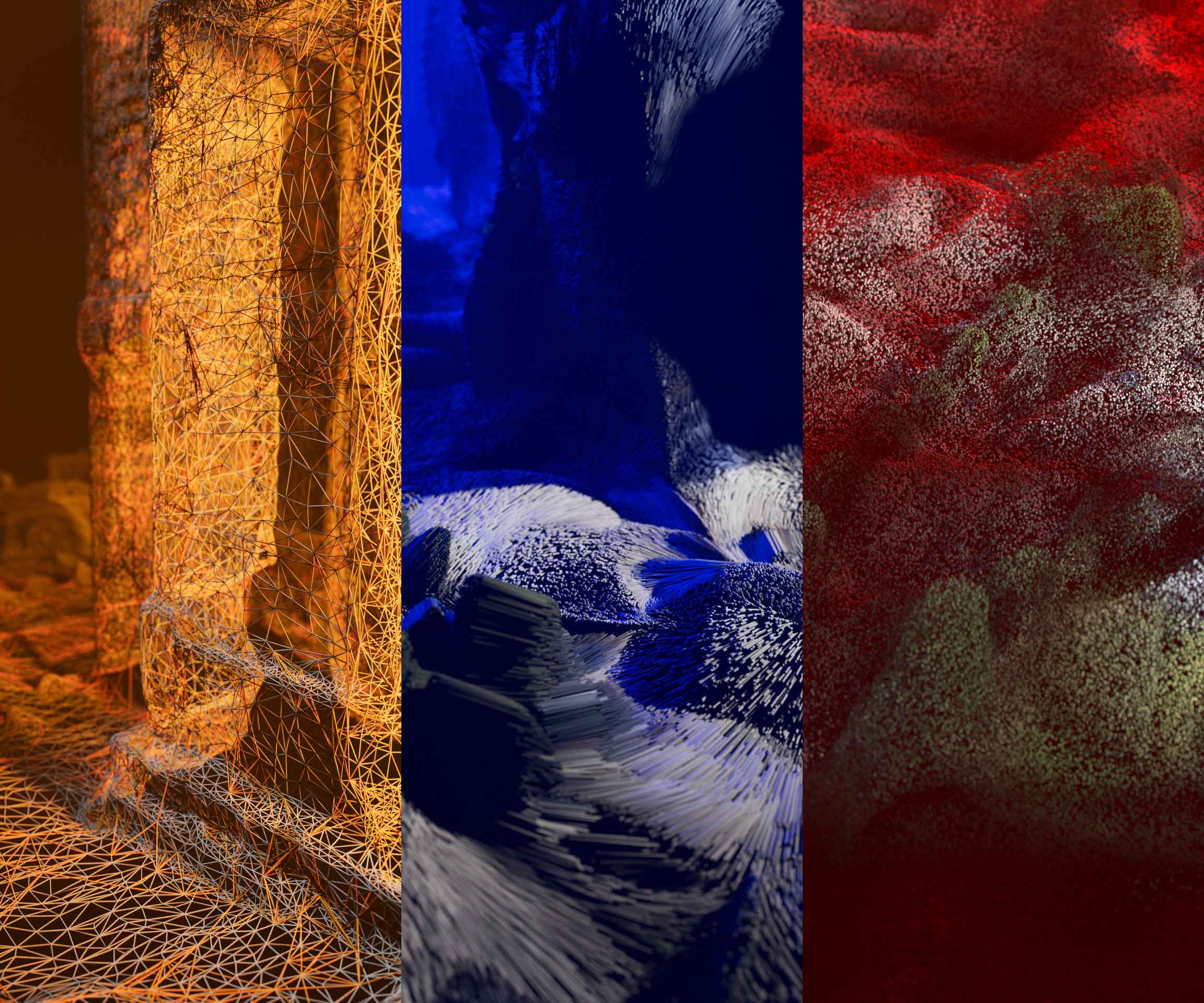 Video Artist, Concept Dmitry Zakharov
Sound Artist, Concept Jiyun Park
Visual Artist, Concept Jan Glisman
Event photography Niclas Weber