In this case study we speak to JM Blay about his work on the recent advertising campaign for Dare to Roam - a new clothing company who specialises in antimicrobial technology.
Hi JM, thanks for taking time out of your day to chat. Before we delve in, can you give us a little bit of background about yourself and the studio?
Hi, thank you for your interest in our work.
So, I'm originally from Valencia, Spain. In my early twenties, I got a degree in Fine Arts and a master's degree in Audio-visual Communication. After working as an artist for a while (sculptor and painter), I started working with computers in the late nineties, trying my hand at VFX.
I founded a small studio and started getting more serious about motion graphics. After a few years, I closed my studio and moved to London, where I lived for seven years, working as a freelance motion designer and art director. During this period is where I started specializing in motion and 3D. At the end of my time in London, I was mostly working remotely as a director, so I decided to come back to Valencia and start my studio: Blay Studio.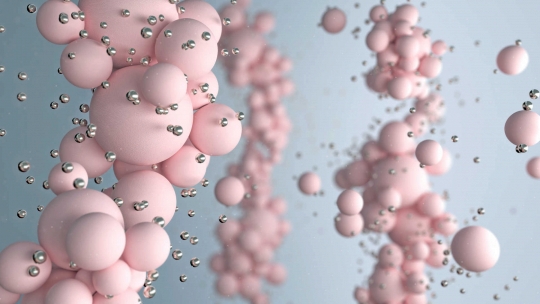 Blay Studio is three years old and has developed work for the likes of Reebok, Netflix, AXE, and Tempur.
We specialize in storytelling and visual narratives, working for advertising and marketing agencies and film studios, producing projects from start to delivery, or any part of the process where we're required.
Aside from my work in 3D, I have also given talks at shows like FMX, Vertex, Adobe Summit for Education, and Digitall. I'm also a regular guest speaker in Adobe Generation Pro.
Aside from a degree in Fine Arts and a master's degree in Audio-visual Communication, I have a Ph.D. in design within the field of motion graphics and I have lectured in several universities in the UK & Europe.
So, you were tasked with the animation for the launch campaign for Dare to Roam, a new accessories brand specializing in antimicrobial bags. When Harper + Scott approached you to work on the project, was there a solid brief?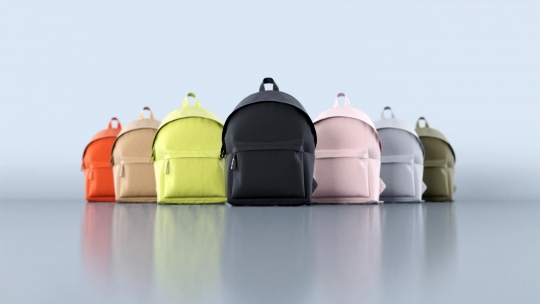 Harper + Scott contacted the studio because they saw the work we did for the international campaign for Reebok and they wanted something similar. They had the idea to show the product on a molecular level to highlight the antimicrobial feature in the fabric of their products and wanted 16 seconds of animation.
From there, I proposed three different routes (with a storyboard and a mood board for each) and we had a meeting to discuss which one was the best option for their product.
DTR is one of the projects that I enjoyed the most in my career. The team in H+S trusted us entirely from the beginning and gave us creative freedom.
Can you explain how you used X-Particles within your workflow for this project?
We used X-Particles as the primary tool in our pipeline throughout.
All the cloth simulations were created with X-Particles. Also, all the metallic particles surrounding the molecules were created with X-Particles. And of course, the fluid being repelled by the cloth is an X-Particles simulation.
In this project, did you encounter any issues that were overcome by using
X-Particles?
I have been using X-Particles for a long time and it's been part of the pipeline we employ in the studio since the beginning.
When we faced the creation of the cloth, we started using the native material in Cinema 4D, but we ended up using the X-Particles cloth. The power of this tool in creating cloth is fantastic and the control you have to art direct the procedural animation is genuinely great. Furthermore, X-Particles is very easy to use; you don't need complicated nodes or programming to make what you want. We love it.
One of the more striking elements of the ad is the knitting effect. Can you talk us through how you created this effect?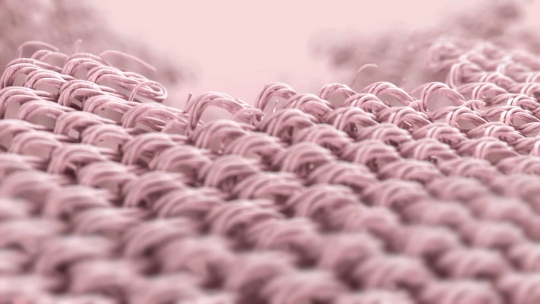 For this effect, we experimented a lot. We did many tests until we found what we were looking for. In the end, it was a simple setup.
We created a few particles following a spline with the shape of a sewing line. Then, we made trails for the particles and added constraints to avoid interfering with one another, and applied sweep curves to it. As a result, we had a growing sewing spline with different threads.
We cloned and aligned this small setup, creating a grid made with the look of a small piece of cloth, and exported the whole thing as an alembic file.
Then, we imported the alembic file again and created a bigger grid, offsetting some parts so some of them are finished and the ones on the edge are still growing. After that, we applied some bend deformers with fields to add the overall movement of cloth to the simulation.
Thanks again for chatting with us today, JM. Before you go, could you tell us what your favorite shot was to work on in this project? And how was it created?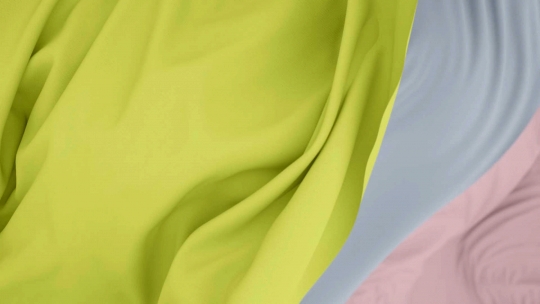 In general, it was an enjoyable project to work on. But if I must choose my favorite shot, it is the one with the three pieces of cloth in the background and the two shots of the product on top.
We created a cloth simulation in X-Particles and then exported the sim to an alembic file with a few sub-steps to change the animation's speed.
We copied the same cloth three times and offset the beginning to achieve different looks.
Credits:
Design and Direction: JM Blay
3D: JM Blay & Alex Magnieto
3D bag modelling: Emmery Macsay
Audio: Resonate
Production: Blay Studio
Agency: Harper + Scott
Links: