We sat down with Keyvan Nourian of studio RIVER to discuss a selection of projects the studio has worked on, and how they integrate our tools into their workflow. We get some insight into the process behind each project and how the team at Studio RIVER turn ideas into reality.
Hi Keyvan, thanks for taking some time to talk to us about some of Studio River's past projects. Before we get going, could you please tell us about the studio?
RIVER is a Paris-based multidisciplinary studio founded in 2015 by the duo of directors and motion designers, Pierrick Selva and Keyvan Nourian. In 2017, Alexandre Scariot joined the team, first as an apprentice and now as the studio's art director and 3D generalist artist.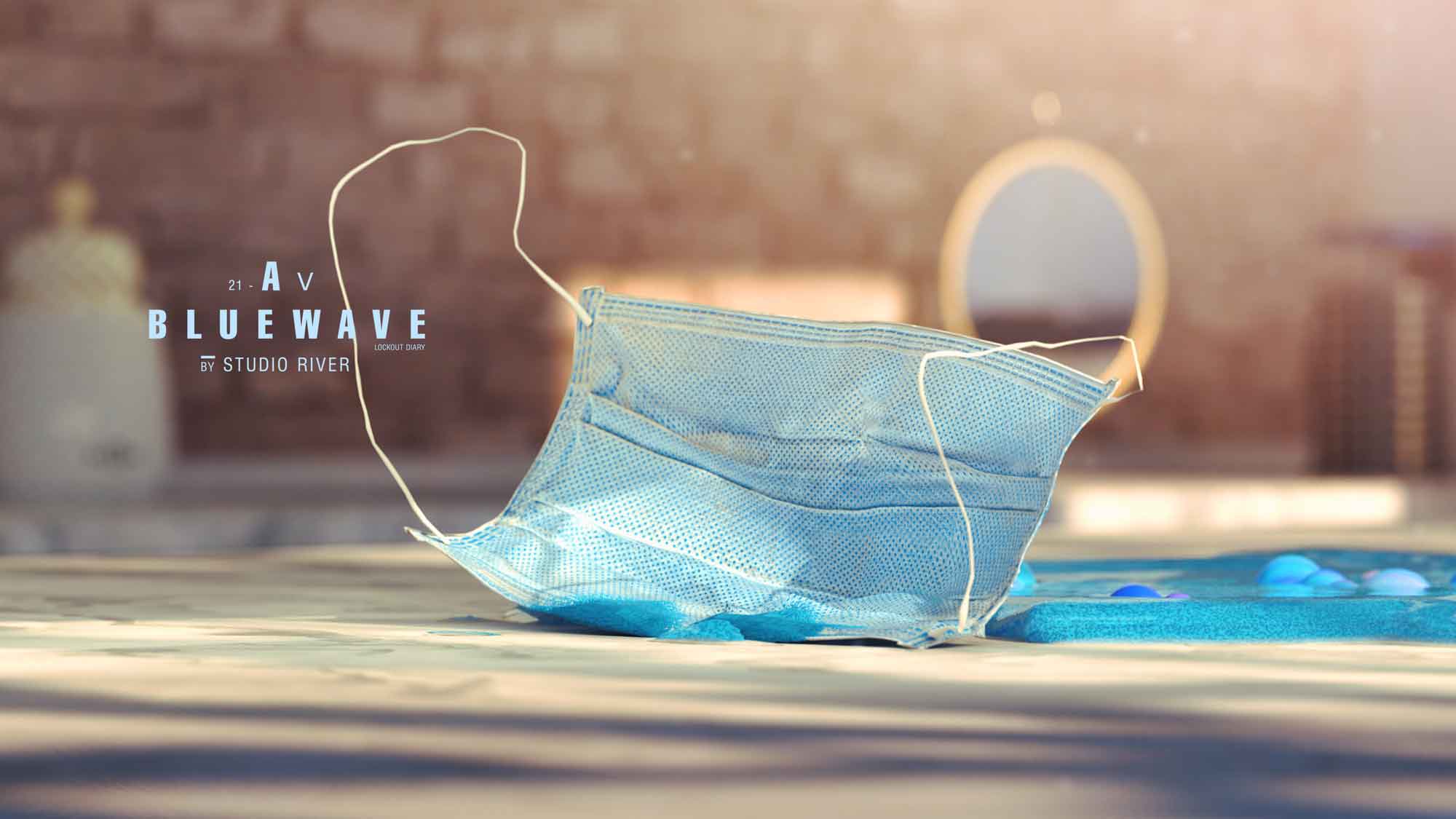 When we founded River, we wanted to be able to navigate between genres and styles, to explore all the techniques that motion design had to offer. We didn't want to lock ourselves into one specialty but offer original and very different content, whether corporate or TV advertising.
And as a result, we quickly had a wide range of clients, from sports to finance, cosmetics to beauty and aerospace. In addition, we have been lucky enough to work for some big-named clients like Channel, Yves Saint Laurent, Gucci, and Renault.
Our driving force has always been storytelling, regardless of the techniques or the fields. We are not a fan of beauty shots or pieces of work; we seek to create meaning through rhythm, shifts, sounds and art direction.
We are not a fan of beauty shots or pieces of work; we seek to create meaning through rhythm, shifts, sounds and art direction
Firstly, I wanted to touch on Manifesto, Studio River's latest brand film/showreel. We understand it was created for the Motion Plus Design festival in Paris 2020. Can you tell us more about this enjoyable piece and your favorite shots to make?
When we decided to sponsor Motion Plus Design, we thought it would be nice to have a film that tells our story. Not just a classic presentation that shows off our skills and client portfolio.
Many people think the manifesto is a showreel; I mean, yes, it is, but none of the shots in this film are from a client project. Each frame was crafted explicitly for the purpose of the video. We had very little time to make this manifesto and little time to devote to it. So, we worked like crazy, evenings and weekends, to meet the deadline!
We wanted to create a unique piece of work that sums up the state of mind of our studio in only one minute and a half. In the end, this video is just a feeling, it doesn't say much, yet the message manages to get through.
The film is a mixture of techniques; different graphic universes all linked together by the rhythm. One is the music, of course, and the rhythm of the voice. There are a lot of shots for such a short format, but that was part of the intention: not to dwell on details, to make all these parts, as different as they are, one entity with as many qualities, which could describe one personality.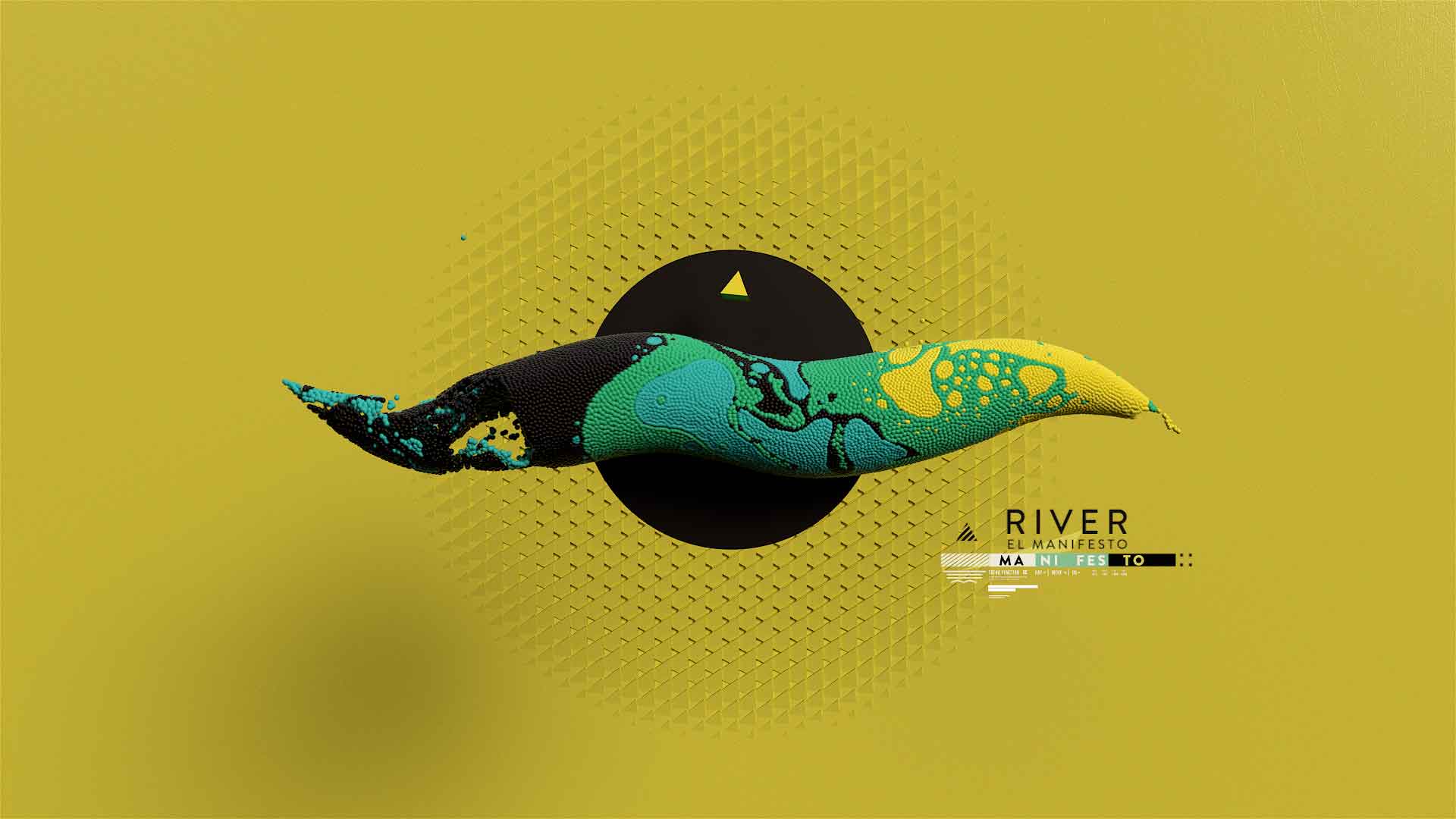 We had a lot of fun making this film. I could not say that I preferred to create one shot over another; as I said, they are all part of a whole. Of course, some were easier to achieve than others, and it is always lovely to be able to check boxes, but the most complex ones were always the most satisfying in the end.
Each time, we set ourselves technical challenges to explore new tools, like the ocean scene where I wanted to test the xpFoam, or the astronaut sequence, on its quad, where Elie learned how to rigg the vehicle, or even using xpTrails and xpFollowSurface. A few of us were working on separate scenes and I did not have a global vision until two days before the deadline.
The most crucial thing in this software is its openness to creativity. It seems to me that X-Particles is an invitation to test
At that time, our clientele was mainly French and we were just starting to develop internationally. So, this manifesto was also a way to position ourselves on the international market. We played a lot on our baseline by making fun of ourselves, our French side and multicultural influences, our bad French accent and our ability to tell stories despite everything, and our logo, which is a wave but often mistaken for a mustache. We don't take ourselves seriously and that's why we do this job, to have fun and to collaborate with as many people as possible worldwide.
Moreover, the Motion Plus Design was a beautiful showcase and an opportunity for our manifesto to be seen. As a result, we won a Vimeo staff pick and a few other awards shortly after.
'A Blue Wave' is a project that caught our eye during the Covid-19 lockdowns and was subsequently shared on our social media channels. The piece starts with a mask floating indoors through an open window; from there on, chaos ensues! Can you tell us about the storyboarding process that led to this encapsulating piece?
Actually, there was no storyboard.
With this film, we wanted to try something a little special. There were 3 of us from the studio (Pierrick, Alexandre, and I) plus the very talented Francis Bièvre. I came up with an idea based on an exploration that Alexandre was doing on his side. I thought it would be really challenging to make a film about the feeling of being locked up. But we didn't want this film to be completely remote-controlled. So, I just wrote a guideline, the mask at the center of the narrative, the house as a place of experimentation, where the mask's blue transforms the space and gives life to objects. The idea was to illustrate the time that stretches and the perception that changes, the perception of one place that protects us and yet has become a prison.
So, we assigned ourselves spaces (the child's bedroom, the kitchen, the living room, or the bathroom), and we each worked in parallel, the ideas of one feeding the ideas of the other. It's a funny way of working, but incredibly enriching. I tried to create coherence in all that to preserve the crescendo, the result was constantly evolving and we could see a new film taking shape every day. I didn't want to restrict the creativity of any of us with a rigid script. The interest of this film lies in the personal perceptions we each have of confinement. The challenge was to create a sense of unity in all of this!
Within 'A Blue Wave,' we see various fluid simulations and shattering objects. How did you go about creating these simulations?
We did a lot of testing. We had clear ideas in mind, like the look of the blue liquid or the transformation of the mug (xpShatter) or the sugar box. Sometimes, while testing tools, we were surprised by unexpected results we decided to keep.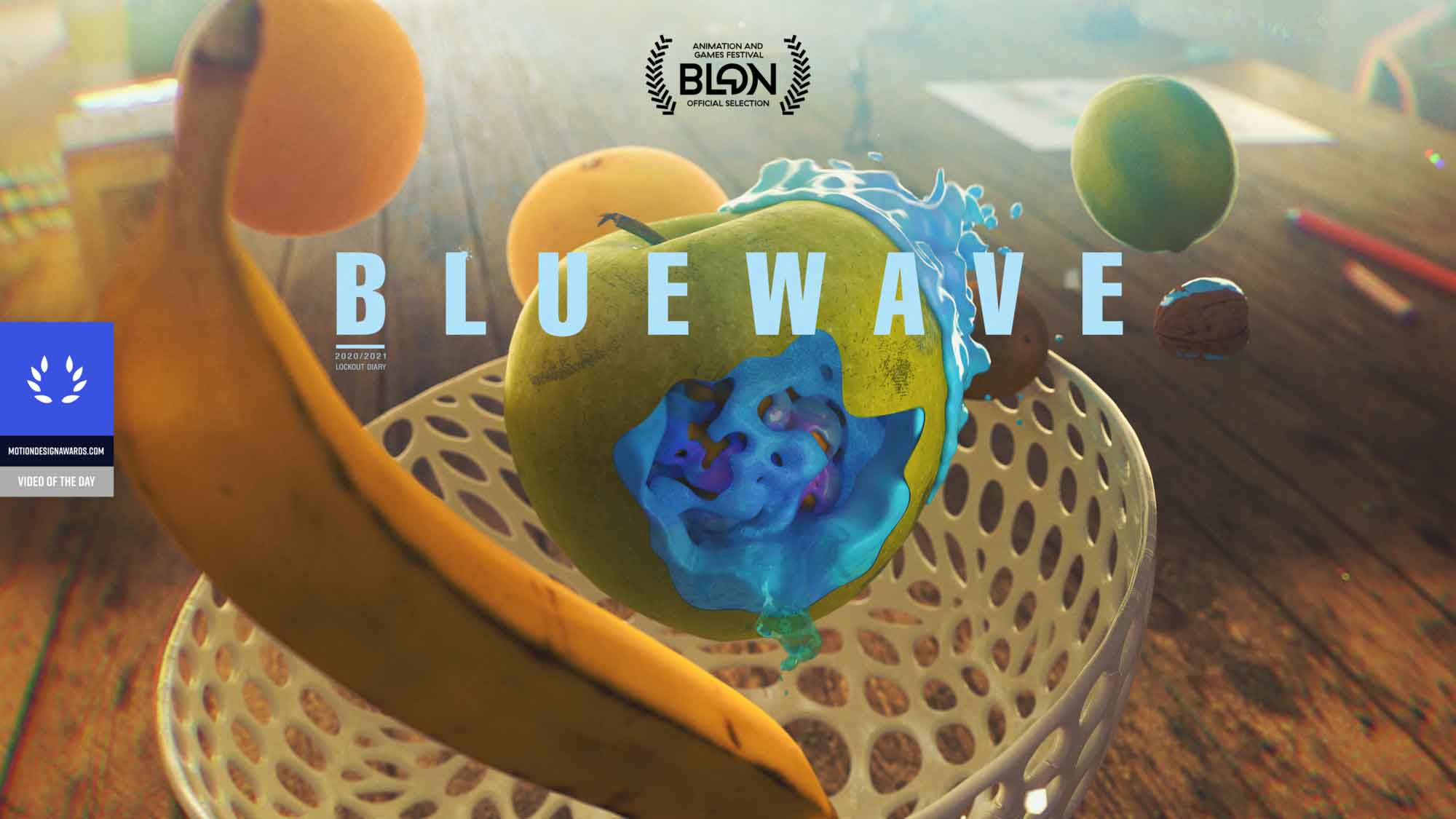 For example, the mushroom liquid growing on the living room table, where I used an xpBranch + xpFollow Surface + xpTrail + xpOVDBMesher. I didn't anticipate the sprouts up; it was surprising and even better than I had expected. So, I had to do about 30 tries to get the right balance.
All the simulations were done with X-Particles and, each time we tested things, it gave us ideas for other simulations; the tools offered us so many possible combinations... but we had to stop at some point!
Sometimes, while testing tools, we were surprised by unexpected results we decided to keep
River Paris is another project that we shared on our social channels. A perfume advertisement concept created by you as an opportunity to play with the classic codes of the genre. The striking elements of this short are the advert's color palette and overall feel. How do you work through the process from idea to finished product with a project like this?
In the same way, it is a project that has matured over time. Initially, we shot a green screen scene for the film manifesto; it was a comical scene to illustrate our work in the luxury industry. The model was making strange faces and taking incongruous poses. Alexandre created an imaginary perfume for this sequence, and we found the look very interesting (a mixture of diamonds in the shape of coral). Two years later, we came across some research for this shot and told ourselves that it would be a shame not to take it further. And from there was born the idea of creating a fake advertisement.
We thought about the connection between the land, sea and river. We had to work out how we could put this all together while appropriating the classic codes of the genre. As often, we knew where we wanted to go but not where or when it would end.
The opening scenes show a rose with water droplets rising from the center; these droplets then break on the edge of the rose's petals, transitioning to deliver the product. The droplet then continues to travel throughout the video across various surfaces. Can you tell us how you came up with this idea and how it was executed?
As I said in the preamble, we are not fans of films that are only aesthetic (which is often the case with perfume ads). So, we were looking to introduce a little storytelling and it appears this drop of water would serve as a thread. Basically, it's the story of this drop of water that goes from essence to matter through several stages of transformation. It's not the most original concept we've thought of so far, but it offered a structure to introduce the parallelism between the land and sea iconography.
We used several techniques to produce these different stages. Sometimes the drop of water was just a sphere with a simple noise. When it became liquid, we used X-Particles and other plugins.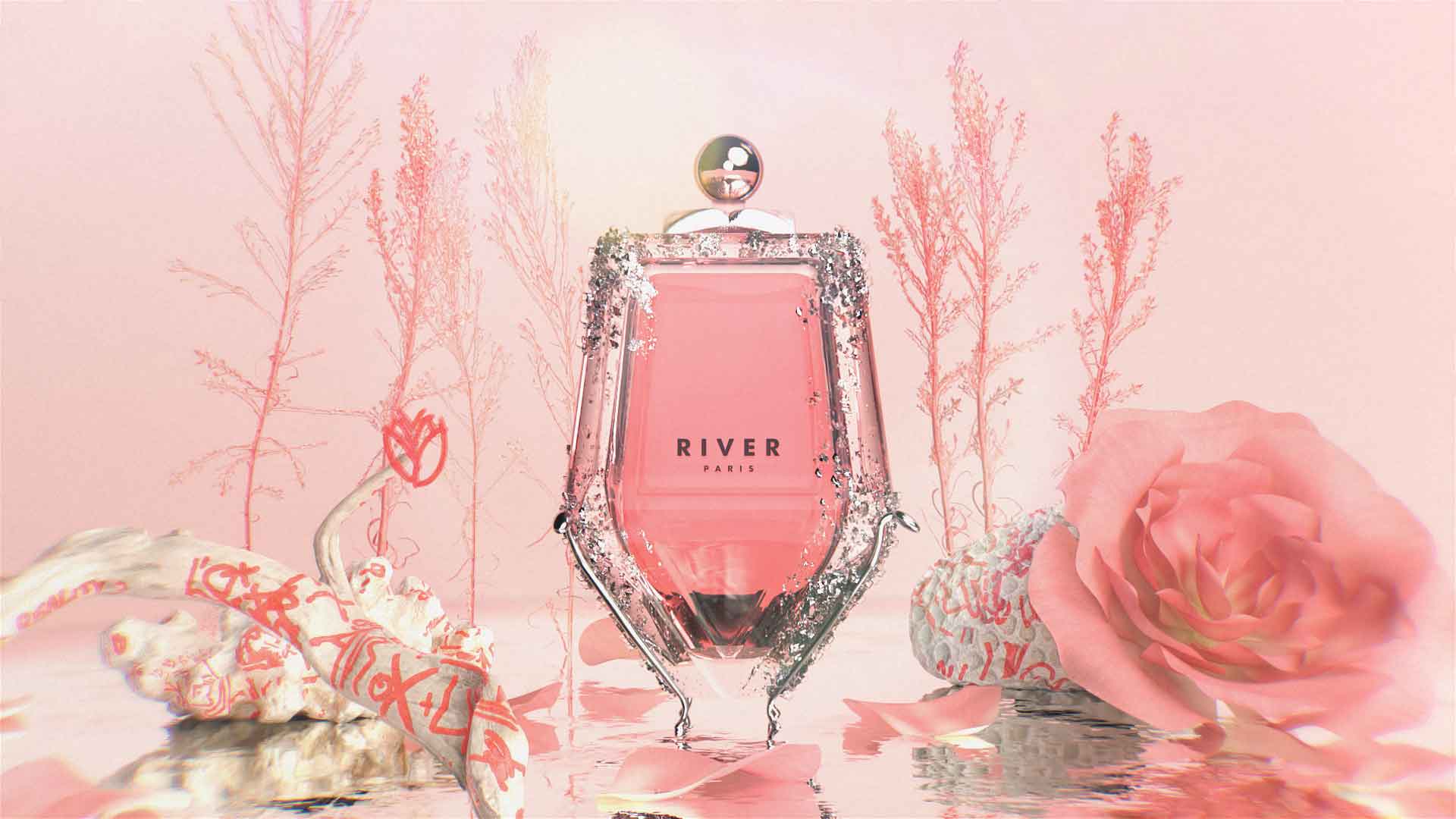 With a studio like Studio River, working for big named clients and brands. Can you tell us why you use X-Particles in many of your projects?
X-Particles is a potent and intuitive tool. But, for us motion designers, I guess it was really a game-changer! We finally had one tool to simultaneously manage liquid, smoke and particles. Over time, new options were added, increasing with each upgrade. The simulations allowed us to become more precise when, before X-Particles, we had to use Houdini for complex operations.
X-Particles is a potent and intuitive tool.
The most crucial thing in this software is its openness to creativity. It seems to me that X-Particles is an invitation to test, sometimes in entirely unexpected ways, and see what it can give. The technique is one thing and it's necessary, but in the case of X-Particles, it is not reductive. One can have relative knowledge and propose unique and original creations.
Thanks again for chatting with us today. Before you head off, can you tell us your favorite feature you use in X-Particles?
Definitely xpFlow. The possibilities are limitless!
Credits:
Manifesto
Keyvan nourian
Alexandre scariot
Elie nourian
Pierrick selva
Mathilde sauterel
A Blue Wave
Keyvan nourian
Pierrick selva
Alexandre scariot
Francis bièvre
Original music : mutant jukebox
Producer : Ada Korvafaj
River Paris
Alexandre scariot
Keyvan nourian
André barbosa silva
Comedian : Maurine Tric
Dof green screen : Benjamin Gonzalez